The Global Donor Platform for Rural Development (GDPRD) organized a dynamic virtual workshop with the Ceres2030 team on 14-15 February, as a follow-up to a conversation held in November 2021 by the SDG2 Roadmap Group.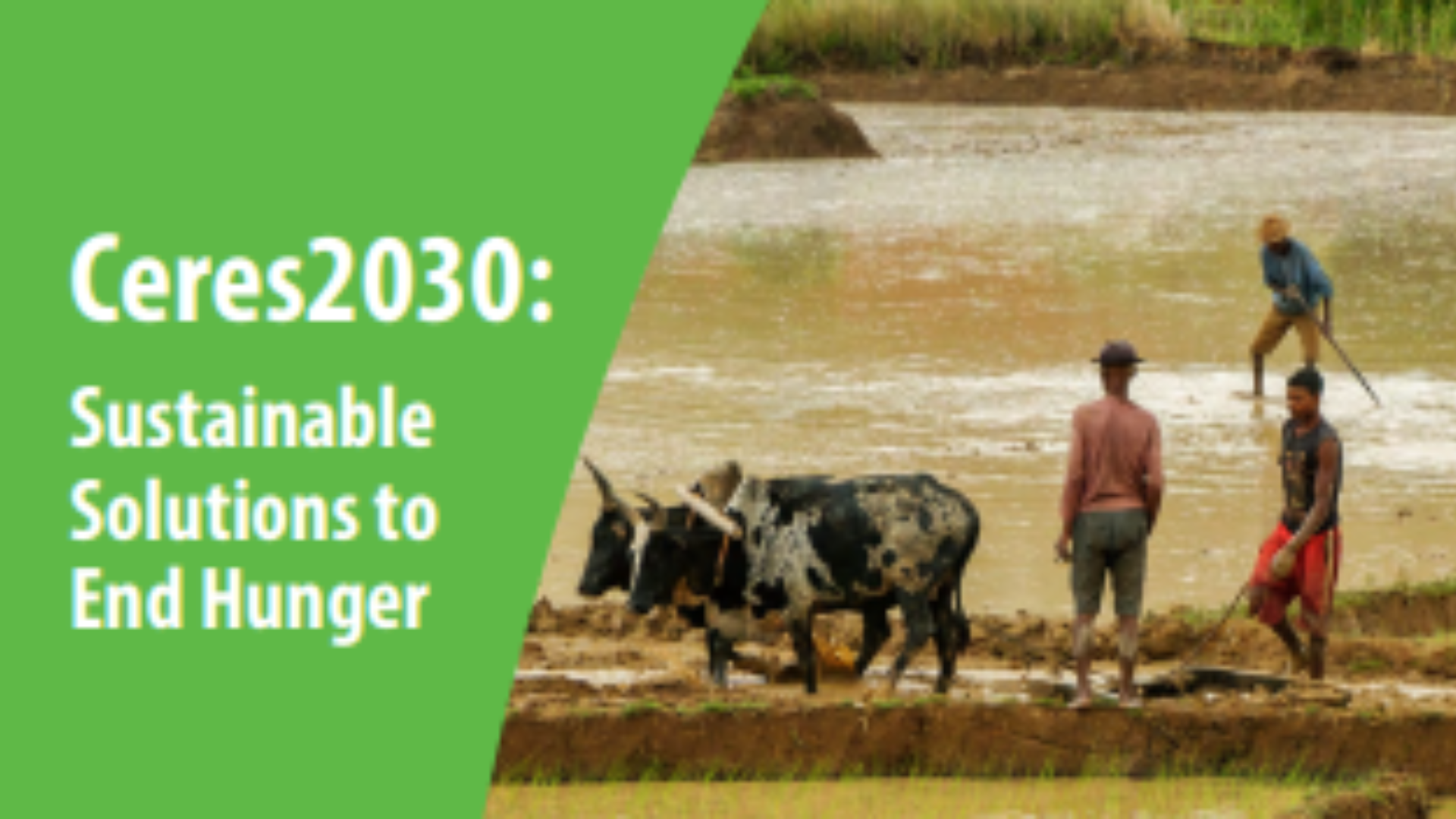 Led by Carin Smaller, International Institute of Sustainable Development (IISD), Jaron Porciello, Cornell University, and David Laborde, International Food Policy Research Institute (IFPRI), the Ceres2030 team shared insights on where the 2020 report "Sustainable Solutions to End Hunger" has taken the donor community, and discussed future directions.
The workshop, well attended by many GDPRD board members, resulted in a strong discussion around opportunities for taking the Ceres2030 agenda forward, in a changing development landscape. The increasing shift in appetite to climate, health and recovery from the pandemic, and the lack of additional funding for food security are key considerations that drive conversations on ODA, which will need to be taken into account towards achieving Agenda 2030.
The Ceres2030 Report represented a real evidence-based road map, with a strong call to double food-related aid and to mobilize additional US$14 billion per year of donor funding until 2030 to end hunger. The call to action was ambitious, and the report findings and recommendations have featured prominently in UN Food Systems Summit Action Tracks. They served as one of the building blocks for the establishment of the Zero Hunger Coalition and the Zero Hunger Private Sector Pledge, for which 43 companies have pledged additional US$391 million, in 47 countries. The report was key for the SDG2 Advocacy Hub to develop the New Consensus for Smallholder Farmers with international organizations, civil society and farmers organizations, and it was also used to make the case for increased financial commitments in recent replenishments, such as IFAD12, IDA and GASFP.
The Ceres2030 team and participants acknowledged the reality of limited financial resources on the horizon, but agreed there is clearly worth to uptake the Ceres2030 initiative.
Main takeaways from the discussion included:
There will not be an increase in financial resources to end hunger. In the lead up to 2030, food security alone no longer suffices to make the case, it needs to be integrated into a broader portfolio and interconnected with other agendas, such as climate and nutrition.

As a consequence, SDG2 needs to be approached holistically, with strong linkages to climate, nutrition, gender, and become increasingly interconnected with other SDGs.

Now is the time to focus on policy and advocacy. Ceres2030 could be the important technical work needed to further political commitments and coherence and in linking with national pathways to sustainable food systems.
The session ended with a reminder of the profoundly ambitious goal of SDG2 to ending hunger by 2030, under which there are equally ambitious targets. SDG2 is the North Star, but there needs to be flexibility to reframe the issues to our current donor environment. Ceres2030 can be used to optimize for a different or more complex set of goals to make the evidence of modelling helpful for donors on the decision-making side. It can also be the common reference point in thinking about food systems transformation. Further discussions can help identify issues of study that will remain politically relevant in the future.
The GDPRD and Ceres2030 will organize other workshops to continue this dialogue in shaping the next phase of the Ceres2030 initiative.
Ceres2030 is a partnership between Cornell University, the International Food Research Policy Institute (IFPRI) and the International Institute for Sustainable Development (IISD). It is supported by Germany's Federal Ministry for Economic Cooperation and Development (BMZ) and the Bill & Melinda Gates Foundation.
The SDG2 Road Map Group has been a thematic working group of the GDPRD since 2019. It is a group of senior officials from different donor agencies active in agriculture and food and nutrition security. The group shares a common vision for eliminating rural poverty, hunger and malnutrition through sustainable agriculture, coming together to identify the obstacles to achieving SDG2 and what needs to be done to address them through cooperative action.