The German Federal Ministry for Economic Cooperation and Development (BMZ) and the International Fund for Agricultural Development (IFAD) organised a joint event on 21 October in Berlin to build on IFAD's 2019 Rural Development Report – Creating employment opportunities for rural youth.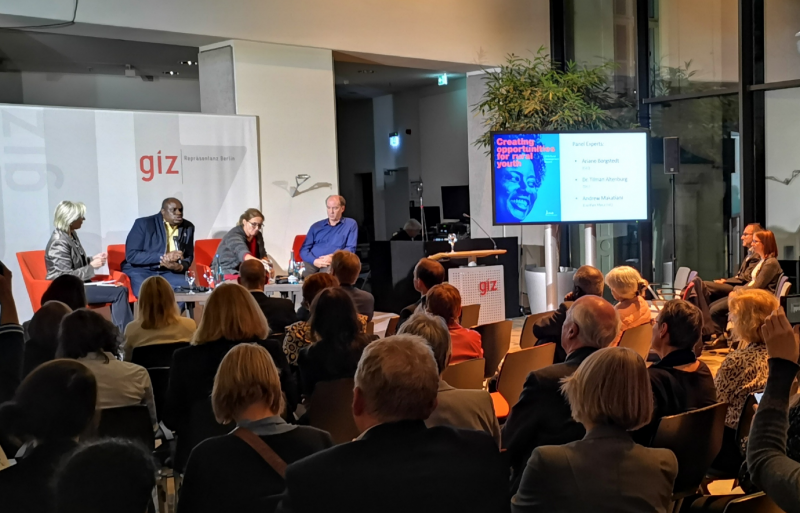 Supporting and strengthening job creation
The event was kicked off by Dr. Maria Flachsbarth, the BMZ Parliamentary State Secretary, who highlighted different issues, challenges, and areas for intervention faced by young people in regards to access to finance, promotion of access to land and land rights, and the empowerment of women. She added that BMZ has committed 10 million Euros in additional funding to support and strengthen job creation. She remarked on the need to answer questions on how practitioners can make their work more effective and more connected to other institutions.
Cornelia Richter, IFAD's Vice President, appreciated the German government for funding the Rural Development Report. She highlighted a need for focusing on the topic of youth employment, as by 2030, 30 million young people will enter the working group, which could lead to a risk of having a "lost generation" with rampant migration. She added that migration should be a choice or option, but not as the only available strategy. Richter also outlined IFAD's action plan for youth, which has an ambitious target of ensuring that all country strategies and half of all new projects are to be youth-sensitive by 2021. She called on to stay clear from over estimating the potential of rural areas and added that investments need to be balanced between rural and urban areas to be effective in providing opportunities.
IFAD's Action Plan for Youth
Paul Winters, IFAD's Associate Vice-President of the Strategy and Knowledge Department, gave an overview of the back ground and findings from IFAD's rural development report and highlighted the key findings and messages from the report. He noted that the inspiration was drawn from the 2018 G20 meeting that during the process of making the IFAD report there was also a general lack of literature around rural youth and economic activities. Winters highlighted that rural youth face particular constraints stemming from the settings within which they reside, the current unprecedented rate of change in different aspects like environment or technology, constraints to skills and capacities, access to finance and land, and gender restrictions. He presented recommendations on what interventions need to be carried forward while emphasising that vocational skills and training alone may not be sufficient if there are no opportunities. Other recommendations included equipping young people with cognitive skills, collaborating with the private sector, and continuously engaging youth in discussions.
An interactive panel discussion followed that tackled key questions, for example, how to support job creation for millions of rural youth, make agriculture attractive again to youth, and empower rural youth. In her reflections and closing remarks, Cornelia Richter emphasized that there may be no shortcut when it comes to the topic of rural youth as it requires attention to creating an enabling environment, which also includes the personal dimension. Dominik Ziller, Director of International Development Policy and Governor for IFAD at BMZ, echoed that there may be no silver bullet when it comes to the opportunities for youth, but the topic requires support and acknowledgment. The event ended with an informal reception where participants interacted and networked with each other.