On 17 May the United Nations celebrated the 50th anniversary of World Telecommunication and Information Society Day. Information and Communication Technologies (ICTs) shape our every-day life throughout the world. For a long time, ICTs have been considered to provide an avenue to increase youth's participation in agriculture and make it a more profitable and sound career path. ICTs could make agriculture a more promising career path for millions of young people given their potential to increase market access, provide weather forecasts and link rural farmers to information networks and other farmers.
Engaging youth in agriculture through ICTs
In the run-up to the World Telecommunication and Information Society Day and to further explore the role of ICTs in youth-led agriculture and agribusiness, the CGIAR Research Program on Climate Change, Agriculture and Food Security (CCAFS), in partnership with the Climate Smart Agriculture Youth Network (CSAYN), held a month-long online discussion on the Climate & Agriculture Network for Africa (CANA) Platform. The online discussion had participants respond to a range of questions, from technology as a tool to support youth-led agribusiness to discussing the barriers to ICT use. The use of ICTs to link young people to agriculture was a natural fit according to many contributors.
CGIAR-CCAFS in partnership with CSAYN, Foundation for Building Sustainable Communities (FBSC) and the Technical Centre for Agricultural and Rural Cooperation ACP-EU (CTA), hosted a webinar on 29 May. Topics drawn from the online discussions included current trends in youth engagement with ICTs, a discussion about the opportunities and barriers that young people face in the agriculture sector and the role of technology going forward.
"Most people born after the mid-1990s have probably never known a world without smartphones," one participant remarked. Another seconded saying "youth tend to be tech-savvy. They can be involved in developing digital applications that can be used to enhance agriculture along with different aspects of the value chain."
Quotes from the webinar
The webinar had speakers from CSAYN, CGIAR and FBSC who shared a wide array of insights regarding different interlinkages between ICTs, youth and agriculture. It began with a presentation by Catherine Mungai who presented the findings from an online according to which there is a negative perception of agriculture by many people that stems from social institutions, families and even education institutions. Until now, doing manual work on farms is still perceived by many as form of punishment.
In addition to the negative perceptions, the online study found that many young farmers and agri-tech innovators lack capacity inform of business management skills and peer mentorship opportunities. Young people also face challenges in accessing finance, which was attributed to their lack of access to land and finance.
The study also highlighted the potential of ICTs for the agricultural space, e.g. opening up linkages and connections between markets and farms by E-trade, creating opportunities for youth in agriculture to connect and engage with each other and offering a platform to maintain information on farm activities that could go a long way in promoting formalization of young agriprenuers businesses.
Mungai added that despite having a lot of potential benefits to the agricultural space, ICTs still face several challenges that limit their spread. These challenges include high costs of developing interventions, low access to internet connections in many rural areas and the low level of education often reflected in the prevalence of high illiteracy levels. There are also social-cultural factors with regard to language and cultural acceptance. She appealed to tech developers to have a gender lens in designing technologies as some of the technologies may not be gender-sensitive
Joan Kerr, FBSC founder, shared various experiences of her involvement in a six week competition where youth where introduced to growing first maturing plants in order to make them acquainted with agriculture along the entire value chain. She observed that the participants were attracted to using ICT solutions with regard to learning about market prices and weather forecasting. "Agriculture is not just about digging a hole," she said, adding on further that ICTs create opportunities to enhance information along value chains.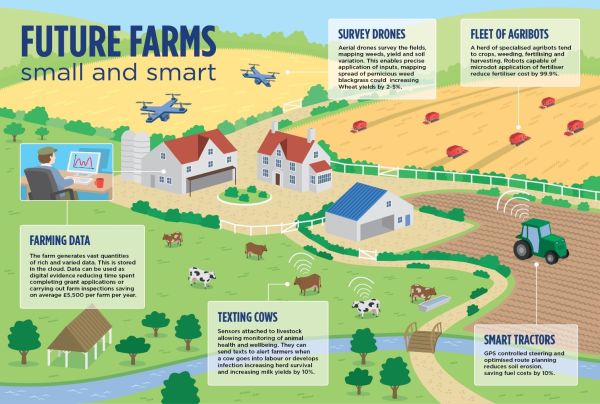 Victor Mugo, country coordinator for CSAYN Nairobi, gave different examples of how youth have used ICTs in solving agricultural challenges. Key words were in his presentation were "Internet of Things", digitalisation of agricultural extension services and using phone applications to forecast the weather. According to Mugo young people will be central to applying ICT innovations in agriculture and making agriculture future-proof. For Mugo, future farms are " small and smart", with texting cows, smart tractors, farming data, survey drones and fleets of "agribots".
Many speakers highlighted also referred to challenges that exist with ICT and youth interventions in agriculture. They pointed out that youth are typically considered as "risky investments" because of their lack of security guarantees. Another limiting factor is the fact, that their innovations are often at an early stage of development. Such factors would prevent youth from commercialising their ICT innovations. Catherine Mungai called for applying innovative financing strategies like business incubation facilities that benefit start-ups and help facilitate their access to funds to develop ICT innovations. "It needs holistic value chain-oriented interventions rather than those focused only at farm level to allow innovations to spread from farmers to markets," she said.