Over 200 participants gathered in Cape Town, South Africa for the 3rdAfrica Youth Agripreneur Forum (AYAF) on 24-28 June 2019. The forum themed "Climate Smart Agriculture: Business and Employment Opportunities for Africa's Youth" was hosted by Platform member African Development Bank (AfDB) in partnership with Western Cape Government. The forum is part of AfDB's initiative in supporting the young agripreneurs through the "Empowering Novel Agri-Business-Led Employment" (ENABLE) youth program. Like in the previous years, the AYAF created a testing ground for agricultural innovations to take shape and more importantly, encourage youth to be the driving force of agricultural transformation in Africa. Over the past three years, a total investment of $350 million has been committed by AfDB to run the program in 12 countries across the continent.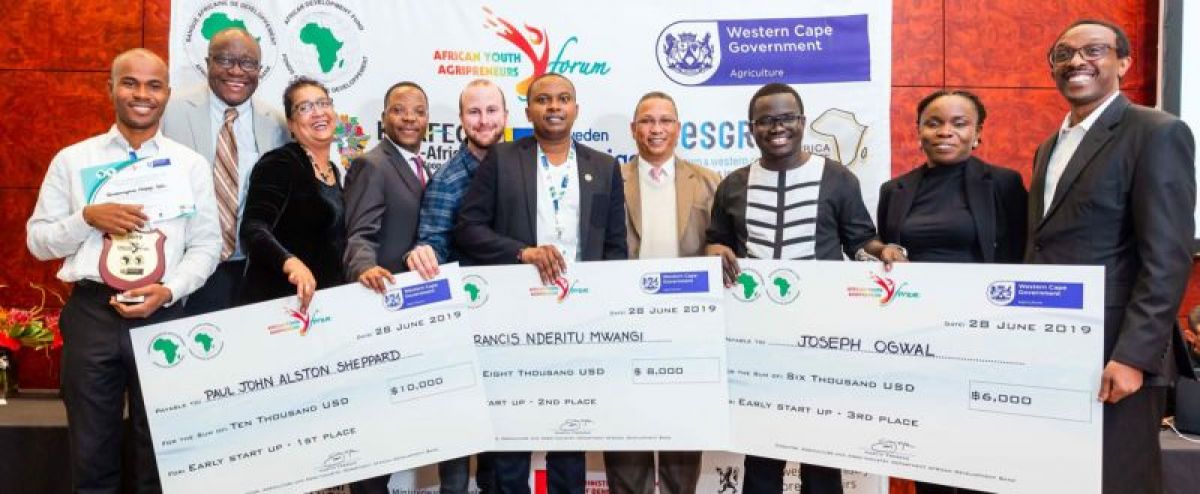 The event kicked-off with a three-day business boot camp from the 24th to 26th of June, where a select group of 25 entrepreneurs was prepared for the AgriPitch Competition under two categories: "the early start-ups" and "the mature start-ups". Drawing from the mentorship and lessons learned from the intense boot camp, the agripreneurs pitched their ideas to a panel of judges and impact investors, who selected six winners to receive a total grant of US$ 74,000 at the award gala dinner.
Alex Muli, a Kenyan entrepreneur and co-founder of Goshen Farm, emerged as the winner in the mature start-up category. He highlighted in his remarks that the event could be a catalyst for a new development narrative in the region:
"The boot camp was a great learning experience for me and helped me to know how to better tell the story about my business. I was humbled to meet fellow agripreneurs from other African countries who are doing great stuff out there hence rewriting our continent's story, a story of hope, transformation and sustainability by young Africans for Africa".
The event was concluded by a two-day conference on 27-28 June that served as a platform for young agripreneurs and key stakeholders alongside experts, business leaders, investors and other policy makers to discuss issues that affect youth employment.
In his remarks, Edward Mabaya from the AfDB affirmed the Bank's conviction that the future of the continent's youth lies in more rapid and inclusive economic growth:
"With the right entrepreneurship ecosystem, skills, technologies and improved access to finance and by using a value chain approach, young Africans can approach agriculture as a business and become the proud owners of viable and profitable agribusiness enterprises".