Kigali | Rwanda | September 2018
Leaders from government, business, research and development spheres came together from 4 – 8 September 2018 to discuss sustainable agricultural and economic growth across the African continent, at the 8th African Green Revolution Forum (AGRF) in Kigali, Rwanda. Under the theme "Lead, Measure, Grow" the discussions highlighted the importance of political guidance in championing policies that are conducive for food systems to flourish, as well as the importance of promoting accountability mechanisms which help to measure progress and growth in the agricultural sector.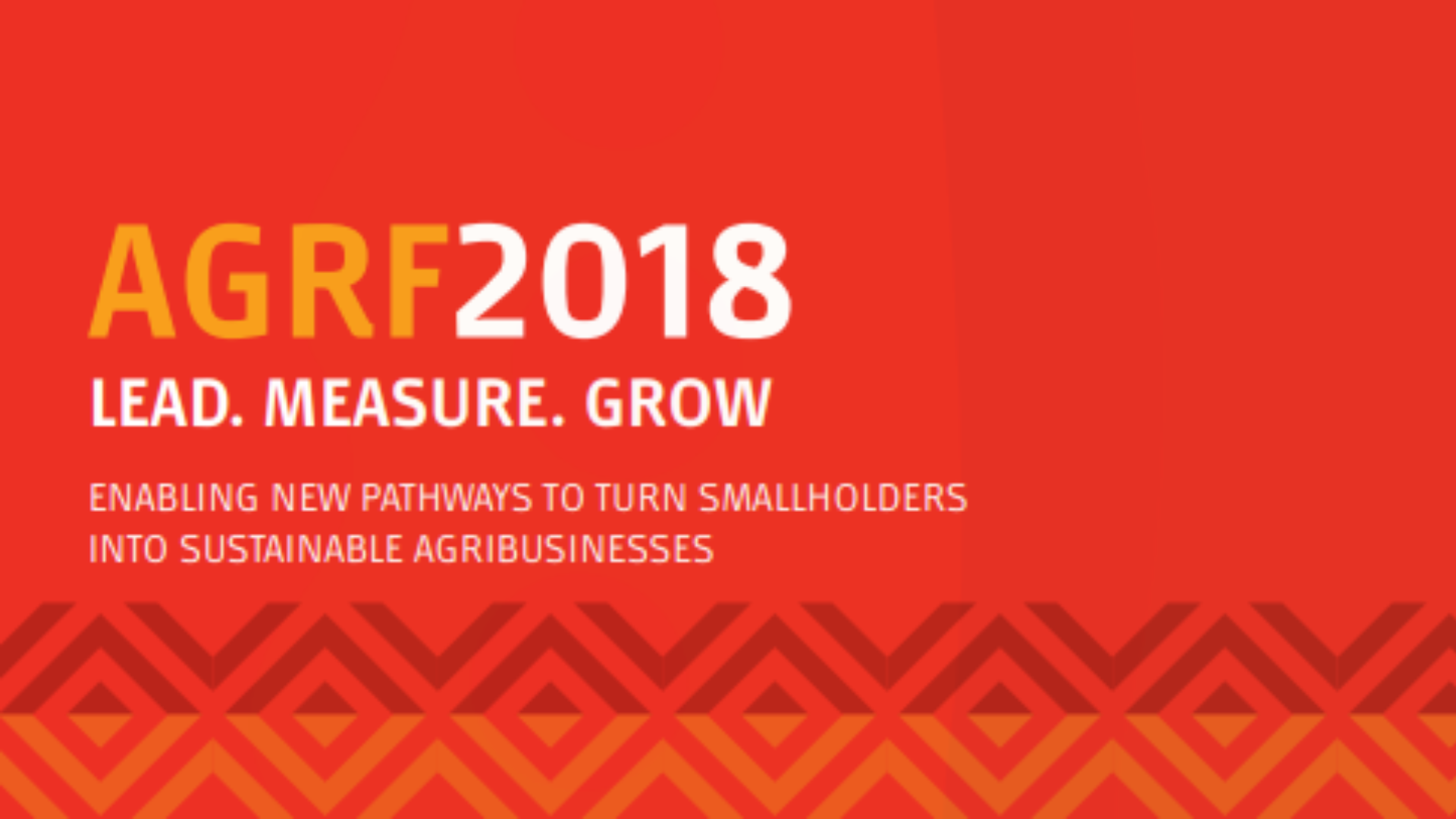 Lead: Strong political and financial commitments crucial for agriculture sector
"With leadership that is committed to what we want to do in agriculture, there is no way we cannot grow and see our economies grow." – Dr. Agnes Kalibata, President, AGRA
Political will was a prominent topic in the various events and side events, with the repeated sentiment that African leaders must promote policies that set the scene for successful agricultural transformation. In this direction, the African Continental Free Trade Area was noted repeatedly as one of the biggest recent pan African policy achievements. The AfCFTA has the potential to open up huge opportunities for Africa's by way of market access, especially for Agricultural produce in line with Malabo declaration number 5 of tripling intra-Africa trade by 2025. As H.E Ruto of Kenya said, "Why struggle to access the markets in Europe when we can't access the market next door? We have made it easier to export to Europe than to export to Ghana or Rwanda."
African countries need to be prepared to tackle their supply side constraints, and it was stressed that what Africa needs is political leaders who can make a compelling case for investing in smallholder farmers for food security and equitable economic development, matched by long-term financial commitments including those of the private sector.
Measure: Building the evidence and accountability base for African agriculture
"The knowledge, experience and goodwill in evidence at this forum shows that we have everything we need to succeed. It is up to us working together to drive the necessary change in our respective communities and organisations." – HE Paul Kagame, President, Republic of Rwanda
The Inaugural Biennial Report on the Implementation of the Malabo Declaration was recognised on several occasions during the conference for having paving the way for accountability on the continent around the progress of Africa's agricultural goals as laid out under the comprehensive Africa agriculture development programme. By publicly tracking progress based on a standardised set of indicators, AU member states are comparable among each other, accountable to their people and motivated to improve their countries' scores and learn from one another.
Another comprehensive assessment discussed at the forum was the Africa Agriculture Status Report on Catalyzing Government Capacity to Drive Agricultural Transformation, which was launched on the opening day. It examines the role of state capacity and political will in achieving agricultural transformation. The report offers 7 key recommendations for African governments.
Recommendations for African governments:
Communicate a clear and convincing vision of agriculture's potential

Approach agriculture as a long-term relationship, not a brief affair

Link policies and investments to clear commercial opportunities for smallholder farmers

Foster an enabling business environment for agriculture

Create farmer-focused institutions and initiatives empowered to work across government

Agriculture needs to expand its roster of players

Governments need to be accountable
Grow: Business unusual, time to rethink agribusiness on the continent
"We can't talk about the farmers and agribusinesses both small and large, we must talk WITH them. Development can only happen through true partnerships." – Dr. Stefan Schmitz, Head of Rural Development and Food Security, BMZ, Germany
Speakers at the conference emphasised that agribusiness in Africa needs to match Africa's needs, with value chains that go downstream to have a real impact on the smallholder farmers, particularly their access to inputs and markets. On the other hand, private sector actors face challenges in Africa because the majority of agricultural activity is in the form of small-scale farming and therefore adds to the risk of investing into agriculture.
As such, having strong coordination between various sectors, even those beyond agriculture is important. Collaboration among different areas - e.g. water, infrastructure such as ports and roads, trade - needs to be structured. Political and financial support to make this possible is critical for creating a conducive environment to draw in the private sector.
Youth in Agriculture
"We need young people to see agriculture not just as work that is backbreaking and unfulfilling […] but as one of the greatest opportunities to create wealth." Fred Swaniker, Founder and CEO, African Leadership University
Following the Platform's Annual General Assembly that took place in mid-June 2018 on the topic of rural youth empowerment, the Platform has been promoting discussions on youth, as part of the preparation to create a youth work stream. Throughout the AGRF, the theme of rural youth employment in agriculture and the food system was raised. It was mentioned that the quality of rural education and training does not match labour market needs and this needs to be re-assessed. Furthermore, access to finance for youth remains challenging and in a session entitled 'Entrepreneurial Youth in Agriculture: New Skills and Technologies', young entrepreneurs urged development partners and financing institutions to believe and invest in them, which would better enable them to become employers in the agricultural sector themselves.
A number of Platform members used the opportunity of the AGRF to meet on the side-lines together with youth representatives to discuss the ongoing plans for a Platform work stream on youth. A concept note has been prepared and the work stream is anticipated to become fully functional in the coming weeks.