On 26 July 2019, Abuja, Nigeria saw the largest gathering of Africa's entrepreneurs from across various sectors, ranging from Agriculture, to ICT, fashion and education, in a two-day event organized by the Tony Elumelu Foundation (TEF). The initiative, founded in 2010, has been at the forefront of advocating for entrepreneurship as the catalyst for the economic transformation of Africa. The 10-year programme made a US$100 million commitment to identify, train, mentor and fund 10,000 African entrepreneurs by 2024 and has so far empowered 7,520 entrepreneurs in its first half cycle.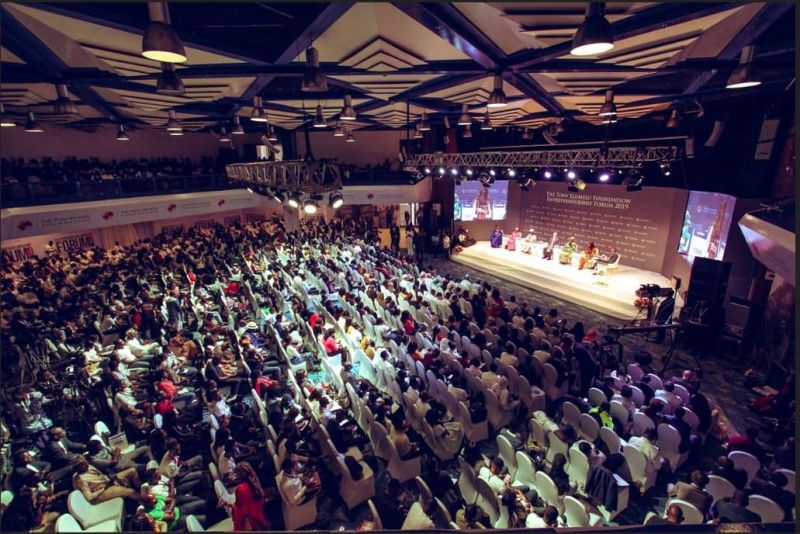 The 5th edition of Tony Elumelu Foundation (TEF) Entrepreneurship Forum was held on 26-27 July in Abuja, Nigeria. The two-day event, themed 'Empowering African Entrepreneurs,' brought together more than 5,000 participants and 60 speakers from 3 continents. The event is an integral part of the Tony Elumelu Entrepreneurship program cycle. In the run up to the event, selected entrepreneurs received a chance to have robust business training and to develop bankable business plans coached by mentors.
The 2019 Forum itself facilitated interactive masterclasses, plenary sessions and debates geared towards generating ideas and defining concrete steps Africa must take to empower its youth and accelerate the continent's development. At the center of the programme was the Presidential Debates whose panel featured speakers such as Presidents of Rwanda, Senegal, Democratic Republic of Congo, and presidential representatives from Uganda and Nigeria.
Joining the panel, AfDB's president Akinwumi Adesina called upon African leaders to invest in their youth to unlock economic prosperity of the continent, rather than implementing youth empowerment with little or no result:
"We must begin to put our capital at risk for the young people of Africa. The current market system doesn't provide financing to the African youth, projected to be over 840 million by 2050. The African continent will brim with the youngest population on earth by then", Adesina said and added:
"We should begin to set up youth entrepreneurship and investments banks – banks where if you walk in, they see assets and not liability."
Job creation to catalyse Africa's development
Speaking at the Forum, Tony O. Elumelu, founder of the TEF, reiterated the urgency in creating jobs on the continent to catalyse Africa's development. According to Elumelu, "Extremism is a product of poverty and joblessness. Poverty anywhere is a threat to everyone everywhere". The Nigerian investor and philanthropist also reiterated the role of technology as a key enabler in accelerating development, citing TEFConnect, the digital networking platform for African entrepreneurs launched in 2018 to forge business partnerships regardless of their location.
The event concluded on the 27 July with a trip to United Bank of Africa (UBA) Marketplace where more than 150 entrepreneurs exhibited their innovative start-ups products and solutions. The young entrepreneurs from the 20 African countries, in which UBA is present, had competed successfully with more than 216,000 applicants this year to receive a grant of US$5,000, participate in the Forum, and secure a place in the training programme.