The Global Donor Platform for Rural Development (GDPRD) co-organized a virtual round table with the International Fund for Agricultural Development (IFAD) and the European Commission (EC) on "Addressing the Impacts of the War in Ukraine on 3F (Food, Fuel, Fertilizer) Prices for Rural Small-Scale Producers" on 20 May, 2022.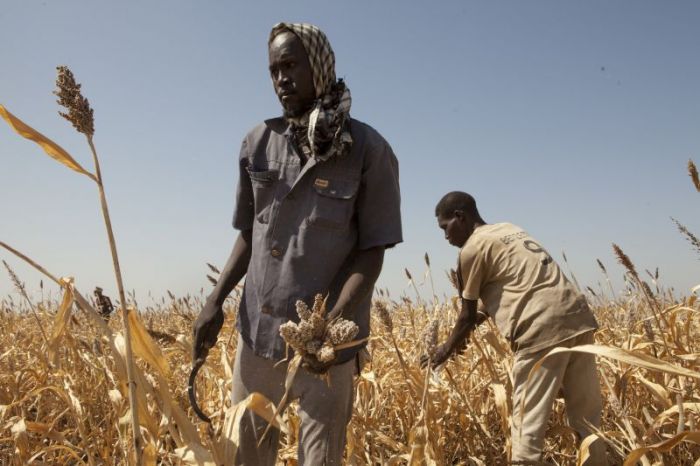 The event, which followed Chatham House rules, provided an open space to discuss actions that donors can take to support small-scale rural producers in the multi-layered crisis resulting from the Ukraine war.
The conversation began with an overview of the current situation to contextualize the discussion. Evidence was presented showing how international prices for the 3F's – food, fuel, and fertilizer – are increasing at alarming rates in the wake of the war in Ukraine. As Russia and Ukraine are among the top exporters of wheat, maize, and sunflower oil, countries that rely heavily on these imports are increasingly vulnerable, as food availability declines while prices of food, fuel and key agricultural inputs reach record highs. In addition, Russia is the world's largest exporter of nitrogen-based fertilizer and the second largest exporter of potassium and phosphorus-based fertilizers. Soaring prices of agricultural products are putting small-scale producers at risk for the upcoming harvest season, with the potential to have detrimental impacts on food security and livelihoods. Discussants emphasized the need to reduce export restrictions and avoid the weaponization of food during conflict.
The current crises have been exacerbated by and led to an increase in 3F prices. A fourth 'F' was also proposed as needing consideration during the discussion – finance. Unfortunately, the proliferation of initiatives to tackle these challenges has led to a fragmentation of initiatives and a series of uncoordinated efforts. Donors therefore need to better coordinate their initiatives in order to improve access, use, and availability of food, fuel, fertilizer, and finance.
There were five core areas of discussion:
Enhanced coordination and globally synchronized initiatives – At the global level, donors must improve the coordination and synchronization of their diverse programmes to respond to the crisis. While there are currently an increasing number of crisis response initiatives, many have areas of overlap and may even contradict each other, reducing their effectiveness. Instead, donor efforts should be comprehensive, with multi-stakeholder collaboration, ensuring inclusion of rural grassroots groups, the private sector, producer organizations and civil society. While they need to be coordinated at the global level, the various responses must be integrated with ongoing efforts, programmes and initiatives and should focus on country-level measures – complemented where appropriate with regional activities and initiatives. Participants emphasized the need for context-specificity when addressing this complex, multi-faceted and evolving situation – there are no blueprint solutions.
Effective and cautious investment –Participants highlighted the "do no harm" approach: tailoring short-term investments to meet emergency needs while not derailing medium- to long-term success or progress towards the sustainable development goals (SDGs). The discussants pointed out that interventions should build on existing channels to increase resilience and reduce the impacts of shocks, including scaling up resources for efficiency. In particular, an emphasis must be placed not only on ensuring availability of sufficient quantities of chemical fertilizers at affordable prices, but also on improving the efficiency of the use of such fertilizers while taking care to consider issues related to environmental sustainability in fertilizer use. There are also opportunities to further develop local and regional market connections for fertilizer. The importance of looking back at previous crises and building on lessons learned was discussed; in this way the responses to the crisis can learn from previous crises, avoid repeating mistakes and draw on examples of success.
Interventions that focus on the long term – Discussants agreed on the need to address the emergency humanitarian situation immediately, responding to short-term needs, but distinguishing these clearly diverting long-term food systems approaches and investments. In previous crises, many supposed "short-term" measures were often not reviewed properly taking into account medium- and long-term implications. This resulted in what were initially intended to be short-term measures turning into de facto long-term support initiatives or programmes. This undermined overall long-term development efforts. Therefore, while emergency measures are necessary, they must have clear end points and exit strategies should be clarified at the start.
Evidence-based solutions – The critical nature of the lack of availability of accurate data and information was emphasized as a hindrance to developing the crisis response. It was noted that if we are unaware of exactly how many people are experiencing food insecurity, and where they are, we cannot reach these populations effectively with the assistance they require. Participants emphasized the need to fill data gaps globally in order to promote evidence-based policy solutions and decision-making. The role of lessons learned from national-level approaches was emphasized in order to ensure that challenges are addressed at the appropriate level and the needs of country-level stakeholders are well understood.
Innovative solutions for the future – There was detailed discussion on innovation, particularly policy innovation, required to address the 3F crisis. One innovation suggested was the potential to merge institutions and/or initiatives to avoid overlap, and to improve coherence and collaboration. The current lack of policy coherence with interventions in other sectors beyond agriculture and rural development was also underlined, with the example of the diversion of grains for other uses – biofuels and animal feed – at a time of potential grain shortages. Finally, participants agreed that despite its negative impacts, the current situation could advance food systems transformation and be used to promote resilience among small-scale rural producers in the long term.
Overall, participants underlined that coordination and synchronization of initiatives are essential to avoid overlaps or contradictions between activities, investments and interventions. Investments and interventions must be tailored, targeted, and context-specific. Solutions should seek to meet emergency needs, while retaining a focus on medium- to long-term goals; they should scale up existing pathways, and boost resource efficiency. Data will be crucial in promoting evidence-based policy solutions and decision-making for the future. Discussants also pointed out possible innovative solutions to move forward.
Participants agreed that the donor roundtable was just the beginning of this discussion on the actions and responses needed to support small-scale rural producers.