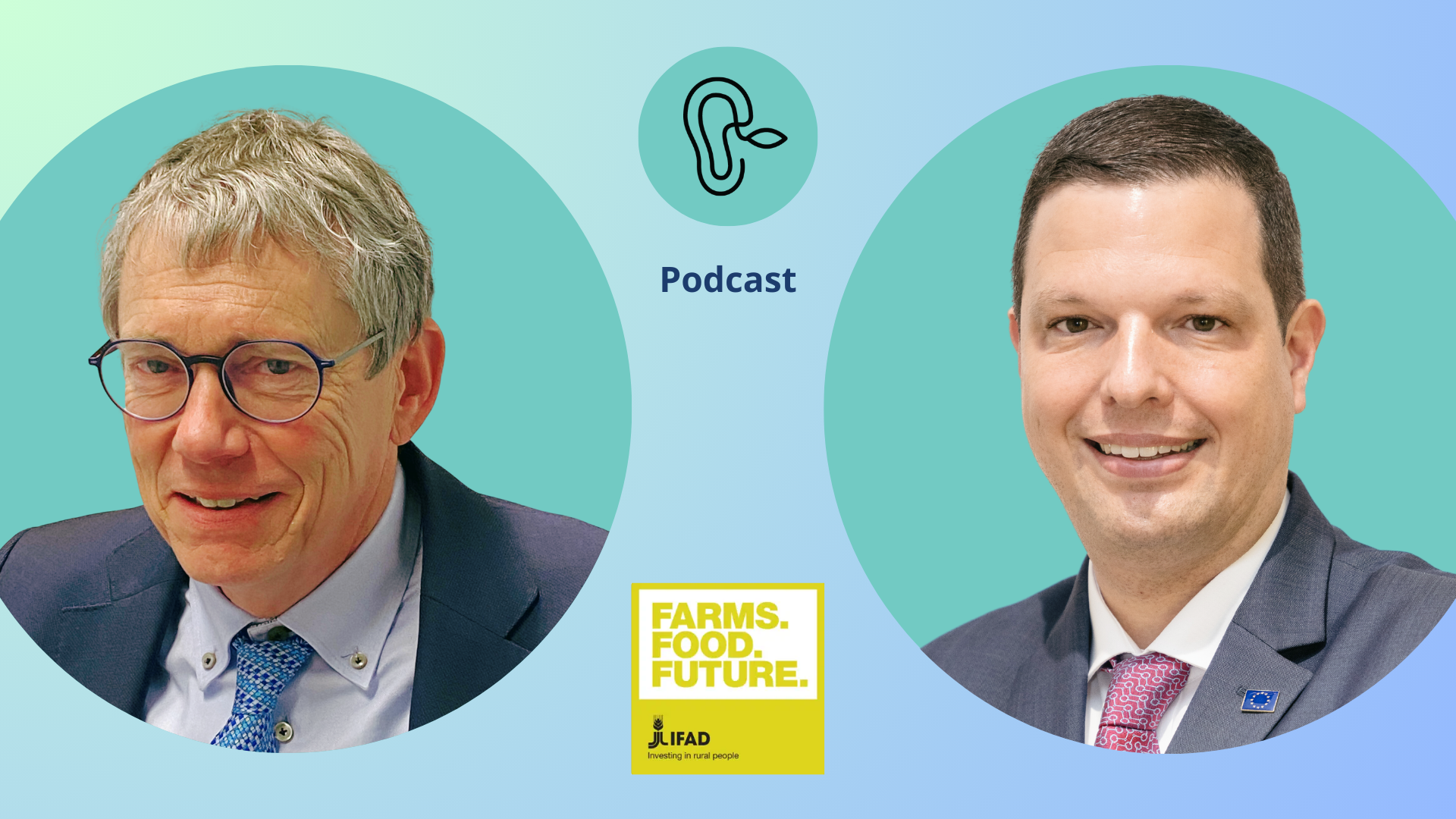 In our third segment, the Platform talks to Willem Olthof, Deputy Head, and Conrad Rein, Policy Officer, at the European Commission. Conrad is also a Co-Chair of the GDPRD.
"FARMS. FOOD. FUTURE" is the podcast of the International Fund for Agricultural Development (IFAD).
The Global Donor Platform for Rural Development is adding its voice to the podcast in a miniseries and bringing a donor perspective to the frontline of food security. IFAD, as the host of the Platform secretariat, had created a special corner of conversation for our members and partners.
Willem and Conrad's segment starts at the 57-minute mark.
Tune into the rest of the podcast which focuses on building resilience in a time of famine. Dr Joseph Awange and IFAD's Satu Santala discuss the root causes and solutions of famine. Climate specialist Paxina Chileshe looks at resilience-building for rural communities in East and Southern Africa. Two farmers in Kenya explain how they're dealing with drought. Land tenure specialist Harold Liversage explains how better land tenure protections can reduce conflicts over land and water. IFAD's Recipes for Change campaign takes on two new exciting chefs from India, Chef Zacharias and Chef Dhondy.
A high-level event to discuss how donors can collectively respond to the skyrocketing food prices and the conflict in Ukraine. The Platform's white paper on "Transforming Food Systems - Directions for Enhancing the Catalytic Role of Donors" was presented as a menu of options for donor engagement in food systems transformation.
Key messages from the UNFSS+2 official side event: Innovative donor approaches to sustainable finance for food systems transformation
In our latest segment, Jaron Porciello, Co-Director, Hesat2030 and Associate Professor, University of Notre Dame, tells us how AI has already made its mark in the agricultural sector and explores its role in reshaping global food systems. She underscores the need to address corporate ownership and regulation