IFAD's Rural Development Report 2021 focuses on "Transforming food systems for rural prosperity." It describes the systemic issues that have led to the situation we are in, identifies priorities for transforming our food systems, and provides recommended actions to achieve meaningful change.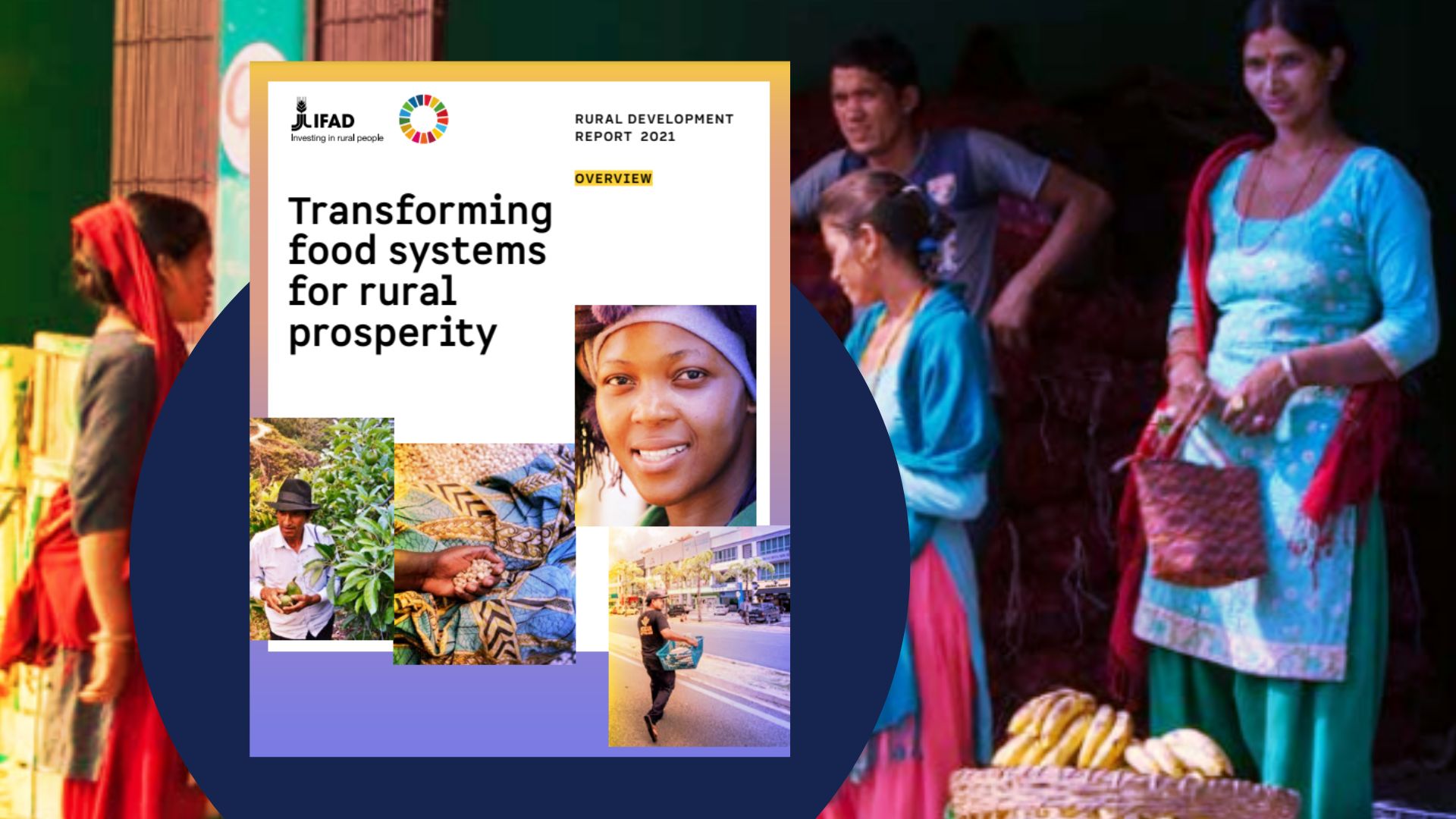 IFAD launched its flagship publication The Rural Development Report (RDR) 2021 in September, on "Transforming food systems for rural prosperity". This year's edition of the RDR emphasizes the inextricable link between food systems transformation and efforts to eradicate hunger and poverty, covering key topics, such as the future of small-scale farming and the need to focus on local small and medium enterprises. The livelihoods of a large share of the world's poor people are based on such systems and we cannot afford to leave rural people behind.
Against this backdrop, IFAD's Rural Development Report (RDR) 2021 focuses on rural livelihoods in the context of food systems transformation. The report promotes equitable livelihoods for rural people, who are front and centre in transforming food systems, alongside the need to improve nutrition and protect the environment. The global need for more nutritious food, ecosystem services and a low-carbon economy also offers the potential for new and innovative livelihood opportunities.
For this report, rural livelihoods are used as the lens in which food systems transformation is understood. While recognizing that nutrition, environment and resilience outcomes are equally important, the report pays specific attention to the livelihood outcomes of food systems. The vision is one of change driven by a new generation of rural agri-food entrepreneurs – young women and men who use their innovative energy, digital skills and voice to capitalize on opportunities, helping to drive rural prosperity for all.
Important messages of the RDR:
Transforming food systems is a long-term generational endeavour;

The pathways to transforming food systems vary in different food environments;

Food systems are in continuous flux caused by external drivers;

Food system components include the production and consumption of food, as well as the food system midstream – the vast network of agri-food enterprise activity between the farmer's gate and the consumer's plate.
Strengthening rural livelihoods to transform food systems that can create pathways out of rural poverty and inequality requires:
Systemic change to reshape the deeper structural economic, political and cultural factors that inhibit equitable livelihoods for rural people, as well as the creation of a healthy and sustainable food system.

Challenging established assumptions, mindsets, procedures, political and economic interests, and power relations.

Deep policy reform and substantial investment.

Extraordinary collaboration, coordination and communication across sectors, and across government, business, civil society, rural people's organizations and the scientific community.