"Effective land governance and management is…indispensable to efforts to promote inclusive and sustainable socioeconomic development in support of Africa's structural transformation," such as the continent's 50-year development plan, Agenda 2063, said Stephen Karingi, Director of the Regional Integration, Infrastructure and Trade Division at the UN Economic Commission for Africa, in his opening keynote speech at the 2019 Conference on Land Policy in Africa (CLPA).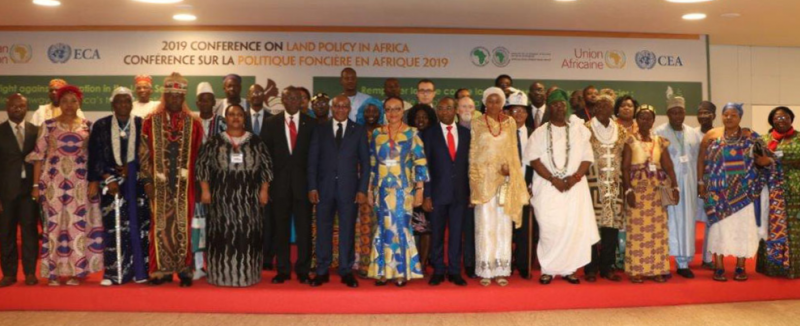 Securing land tenure through good governance is also critical in achieving the Sustainable Development Goals (SDGs), whose global success, Karingi said, "is underpinned by good land governance, as it contributes to eliminating poverty and hunger; promoting sustainable agriculture; advancing gender equality and women empowerment; and promoting inclusive economic growth; among other development objectives". The 3rd edition of the high-level, five day biennial conference took place in Abidjan, Côte d'Ivoire, from 24-29 November and was jointly organized by the African Union (AU), the UN Economic Commission for Africa (UNECA), and the African Development Bank (AfDB), the latter being a member of the Global Donor Platform for Rural Development.
Corruption as a major challenge to Africa's Development
The subtitle of this year's CLPA, Winning the fight against corruption in the land sector: Sustainable pathways for Africa's transformation, placed corruption front and centre as the major obstacle hindering secure land tenure, and therefore sustainable development in Africa. Securing land tenure requires a host of administrative processes underpinned by "decision making that is fair, transparent and inclusive…When corruption gets in the way [of land tenure], it takes away the transparency, fairness, and inclusivity and encourages discrimination and abuse", said Dr. Rexford Ahene, Chair of the CLPA's Scientific Committee. International organizations, civil society organizations, academia, community leaders, and representatives from all levels of government came together to engage in critical discussions of how to confront the drivers of land tenure corruption and stem its negative impacts on people.
"Corruption in the land sector can inhibit the ability for people to access and own land which in turn can marginalize some sectors of society thereby undermining their livelihoods and perpetuating conflicts, hunger and poverty", said Ambassador Josefa Sacko, the African Union Commission's Commissioner for Rural Economy and Agriculture. Sacko stressed that in order to fight corruption, a more equitable distribution of and accessibility to land must be ensured, especially for women, youths and other vulnerable groups.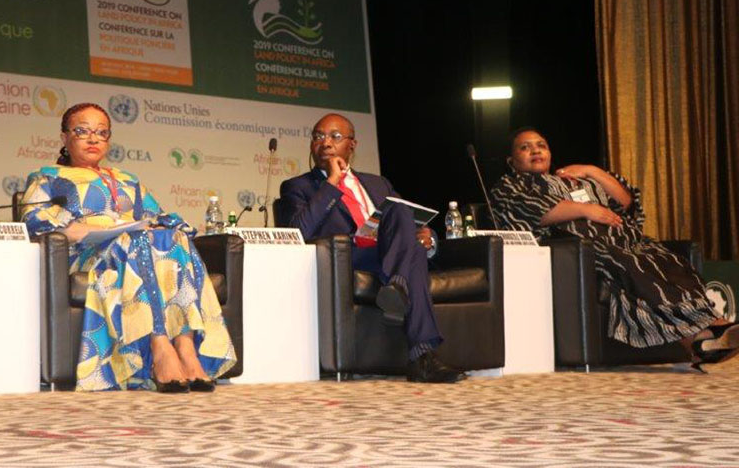 "Women continue to contribute significantly towards agricultural production in Africa but in some circumstances are not able to enjoy their rights to land. It is therefore a reality that women and men still do not enjoy the same rights over land", said Sacko. This gap in women's land tenure security in the face of corruption was highlighted throughout the CLPA, with a plenary session dedicated to it (see link below), 2 master classes, 2 side events, and 18 technical sessions.
The various discussions at the CLPA highlighted the fact that corrupt practices in land administration and management takes many forms, including bribery, illicit land transactions, sexual extortion, the exclusion of communities from deals on their land, unaccountable land planning that allows for speculation to take place, unfairly compensating evicted people for their land, and practices that deny land rights to women and youth. Often, the poorest and most vulnerable are the targets of corruption, further deepening the inequalities present in their livelihoods. The negative impacts of corruption in the land sector on livelihoods was cited multiple times over the course of conference of how corruption inhibits Africa's social and economic development.
Strengthening institutions and financing land governance
The CLPA gave room for speakers and participants to dive into approaches and solutions to stem land governance corruption. One such highlighted solution is the need to strengthen institutions that have the mandate to implement and enforce effective land governance measures and increase dedicated financing for better land governance.
Charles Boamah, Senior Vice-President of the AfDB, called for better approaches to implement the Declaration on land issues and challenges in Africa, which, he said has "three key objectives: Land policy development and implementation; Allocation of adequate budgetary resources to land management and administration; and the establishment of enabling conditions for institutional innovation in land policy and governance frameworks on the continent".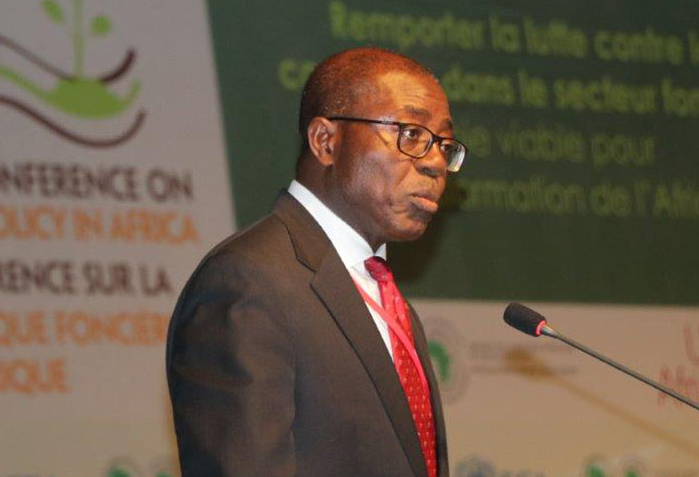 Angela Thokozile Didiza, Minister for Agriculture and Land Reform from the Republic of South Africa, said that more AU members states could adapt and integrate systems and structures at different governmental levels to better manage and allocate land that have worked in other African countries. "It's important at the government level to ensure that states have land regulatory frameworks that are clear for citizens and investors, administrative systems that support legislation, and other means of support" said Didiza.
This additional support, continued Didiza, can take the form of reforming land registration and title transfer costs in a manner that both allows people to afford these charges but also generates income for the institutions that can be invested in effective land administration and management systems.
The official recording and management of land rights was mentioned as being a crucial component to fight land sector corruption because it lets institutions and individuals take stock of what they have and how valuable their land is. This data can help close policy implementation gaps on the ground and help mobilize resources at the country level.
Many of the tools and processes that can strengthen land governance and financing are digital. In an ever increasing digital world where land governance challenges are also changing, Moha El-Ayachi, Coordinator for the North African Node for the Network of Excellence on Land Governance in Africa (NELGA), said that "Africa has taken up the challenge by implementing an attractive strategy known as strengthening capacities of African Union Institutions". This has been achieved by strengthening advisory capacities of AU institutions, developing training and education capacities, and enhancing research capacities via NELGA (see link below for featured article on NELGA).
Secure land governance and management as key for Africa's development
Ahene stated that there is "a moral and political imperative for land governance and secured land tenure", and that "a nation's development needs to be based on secure land tenure and governance, as they are instrumental to ensuring and protecting rights and increasing economic opportunities". Development and land governance were also seen as needing to adapt and respond to new challenges that African "countries are facing, such as climate change, natural disasters, environmental degradation and continuous demand for land for different land uses", said Sacko. This reflects the value of the CLPA forum, which fosters an environment that encourages attendees to consider land governance in broad terms.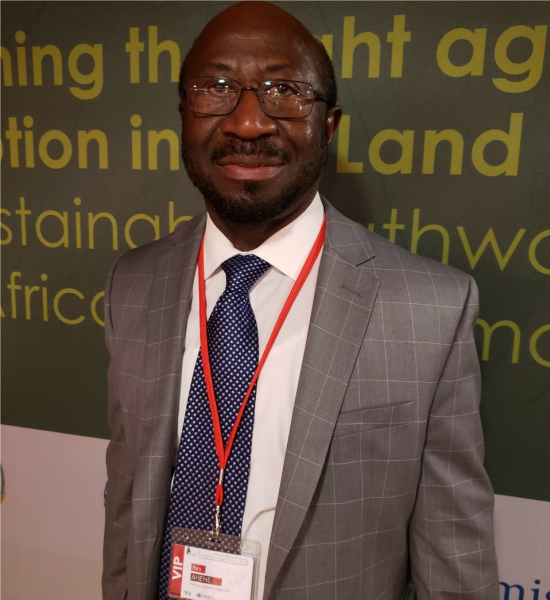 In addition to the need to increase land tenure for women and other marginalized groups, traditional land tenure systems were examined. Traditional leaders from across the continent present at the CLAP called for the old dichotomy between customary and modern land tenure systems to be removed, and for there to be a better understanding and practice of how to merge the two together. Mfumu Difima, a chief from the Democratic Republic of Congo, said that traditional leaders have a role to play in fighting corruption in the land sector because they are the custodians of the land in every African community, and communities' development is anchored upon secure land tenure. "If land corruption is getting in the way of the proper use of the management of land, then we, as traditional leaders, have the responsibility to ensure that that problem does not continue because it undermines our responsibility as chiefs, as custodians of the land", Difima continued.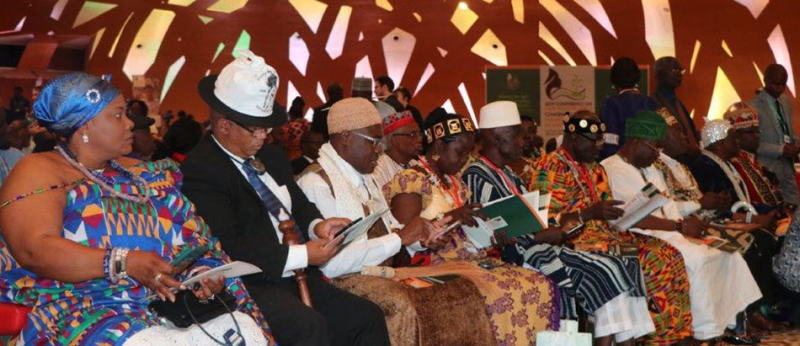 The economic development potential of effective land tenure governance was also highlighted. "Land is a foundational asset upon which economies are built and property rights are essential for creating a conducive environment for attracting private sector investment," said Karingi. However, sustainable development requires an inclusive approach, which Sacko maintains is necessary to "address inequalities and gender differences that exist in accessing land and overall land holding as a sure way of increasing productivity of land, guaranteeing that our [Africa's] citizens have adequate and affordable housing, promoting sustainable resource management and achieving other developmental objectives".