Reporting back on the
Consultations for New Strategic Directions
It is now almost a decade since the adoption of the 2030 Agenda for Sustainable Development by UN member states. There has been a steady increase in global and regional initiatives to measure and track these Sustainable Development Goals (SDG) indicators, with extensive support from the donor community.
How has this 'quantum' leap changed our ability to measure, collect, share and use data related to agriculture, food security and nutrition?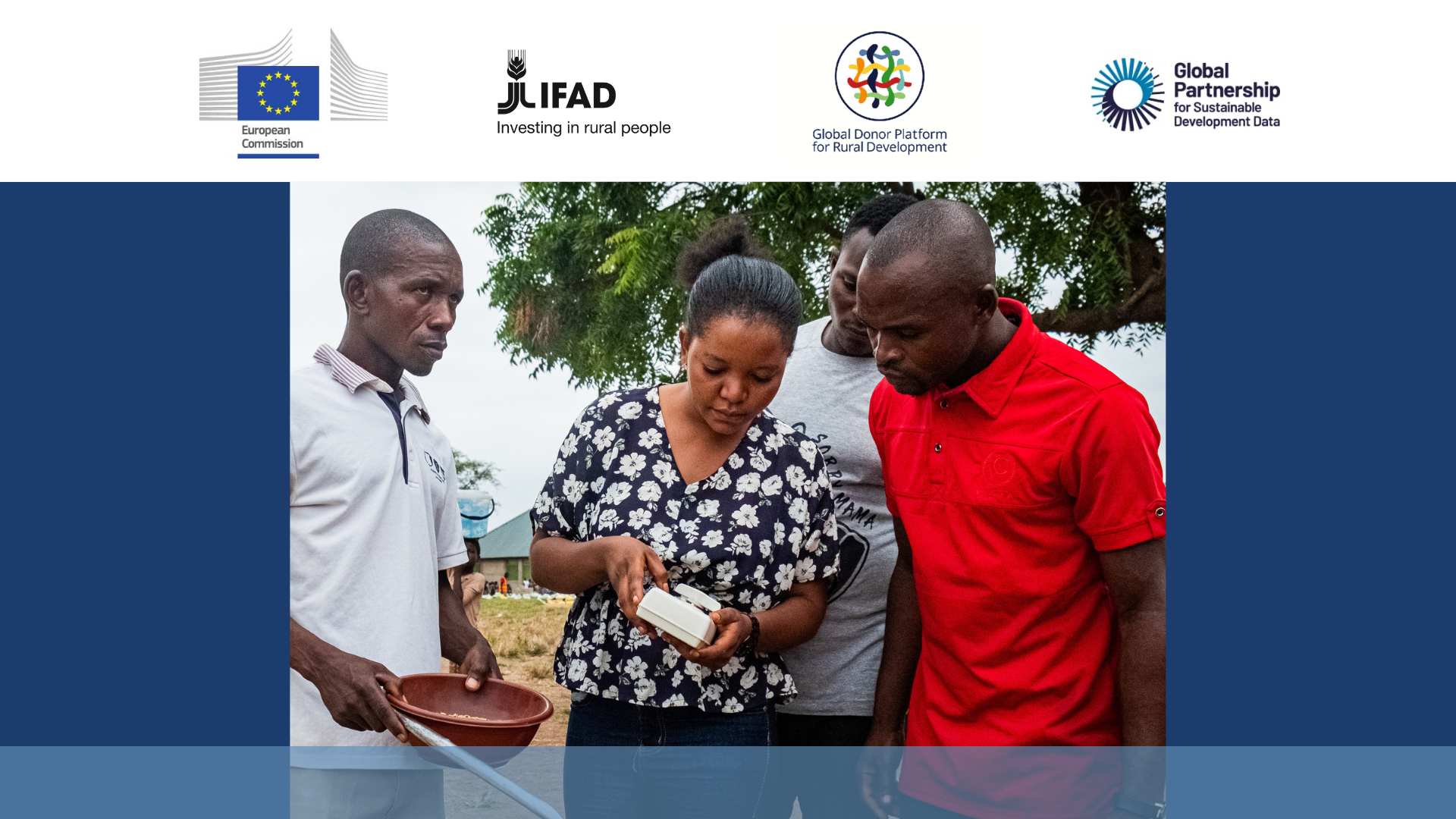 The donor community came together with some key organizations involved in data initiatives on 13 February 2023 in Rome to take stock of current data initiatives on agriculture and food security, and to assess where we stand. Expert insights were presented, with engaging discussions around how to work better together to increase the use of data for decision-making and for greater impact.
The event was jointly organized by the European Commission, the International Fund for Agricultural Development (IFAD), the Global Donor Platform for Rural Development (GDPRD) and the Global Partnership for Sustainable Development Data (GPSDD). It was hosted by IFAD.
A few key points emerged from the conversation:
There was general agreement that the response to the data challenge has been prolific. The production of data has increased thanks to the growth of strong initiatives, but the fact still remains that 30% of countries do not report their annual agricultural production.
It is not always clear how data are used or shared. Participants are engaged in supporting data use for decision and policymaking, and in producing data that informs innovation.
Perceptions over whether we have too much or not enough data varied also within the group. Data is often framed as statistics rather than as findings or analysis.
Quality data are needed to present convincing and relevant data sets which are digestible, usable and trusted.
The benefits of using complementary data sources such as administrative, geo-referenced and private data were also cited.
While noting that some collaboration is taking place between the various data initiatives, participants felt that coordination, either among donors or among international organizations, is an area in need of some improvement. Well-defined roles and accountabilities for all actors would be crucial to coordinate better. Data governance rules can differ between regions, posing a barrier to effective coordination around data collection and use.
Showing a quantifiable return of investment in data is not as clear cut as for projects. There is not always awareness that spending on data initiatives results in savings in the long run.
Future data systems of the next decade or two may differ from what international organizations are currently building, considering the advancement in AI and other technologies.
In summary:
What are the achievements and remaining gaps?
The data revolution has produced positive impact in terms of increasing the production of data, lowering the cost of data collection, and spurring new initiatives that fill data gaps.
Advancement has been achieved in innovations around data production and use of alternative forms of data.
Making reliable data available at the country level remains a challenge due to uneven reporting targets, and differing collection capacities and methodologies. These are often countries in most need of data points to confront food insecurity issues.
Available data is not always used to inform policy decisions. Effort must be made to raise awareness and capacity amongst policymakers on the process and benefits of using data to increase resources for and normalize evidence-based decisions.
To increase participation of countries in the production and use of data, there is a need to understand the barriers that inhibit data production and use, as well as their incentives. Creating or advocating for incentives could be a solution to improve participation at regional levels.
There is a strong need for better coordination on both the demand and supply side for data in agriculture and food systems.
What are the ways forward?
Coordination in data efforts will be key to ensuring delivery of impacts on the ground. Sharing innovative tools and new concepts can minimize overlaps and redundancies, and leverage human resources.
It is important that data produced by public institutions and international organizations remain accessible, relevant and reliable.
Maintaining a results-driven approach to data with clear linkages to thematic areas can help achieve a more balanced demand and supply for data in agriculture and food systems. This shows the value of donor investments, as well as keeping donors informed of where funding is most needed and best used.
Collaboration with the private sector, both in funding and leveraging their technologies, will play a key role in the future of data.
There was strong interest to continue the momentum of the event, with tangible next steps and a process to build on these findings.
Clearly, the data 'quantum' leap has taken steps in the right direction, but better coordination among donors and international organizations is one clear area where we can do better. There were calls for the GDPRD to provide avenues to continue bringing donors and data organizations together. The UN Food Systems national pathways and 2023 Stocktaking Moment in July were mentioned as potential processes for further engagement.
Thirteen organizations presented data initiatives:
Data Initiatives for Agriculture and Food Systems
The 50×2030 Initiative, World Bank 
Presentation by Vasco Molini, Programme Manager
Global Strategy to Improve Agricultural and Rural Statistics, FAO
Presentation by Neli Georgieva, Coordinator, FAO
AKADEMIYA2063, Regional Strategic Analysis and Knowledge Support System (ReSAKSS)
Presentation by Tsitsi Makombe, Director of External Relations, AKADEMIYA2063
Research and Impact Assessment Division, IFAD
Presentation by Sara Savastano, Director, Research and Impact Assessment, IFAD
Food Security and Nutrition
Data collection and analysis tools for Food Security and Nutrition
Presentation by Carlo Cafiero, Sr. Statistician and Economist, FAO
Food Prices for Nutrition DataHub, Tufts University, World Bank Group, IFPRI
Presentation by Yan Bai, Economist, The World Bank
Food Security Portal, IFPRI
Presentation by Betina Dimaranan, Sr. Research Coordinator. IFPRI
Country-Budget Tool for Food Systems Transformation, UN Food Systems Coordination Hub, IFAD, The World Bank
Presentation by Nadine Gbossa, Director of Food Systems Coordination (IFAD), Chief Means of Implementation (UN Food Systems Coordination Hub); Christopher Brett, Lead Agribusiness Specialist (World Bank)
Data Complementarities
Ceres2030 and Hesat2030
Presentation by Jaron Porciello, Co-Director, Hesat2030 & Associate Professor, University of Notre Dame
World Agriculture Watch (WAW)
Presentation by Marie Christine Monnier, Coordinator of WAW, NSL division, FAO
Digital and Data Innovation at CGIAR
Presentation by David Abreu, Sr. Director, Digital and Data for Impact and Integrated Management, CGIAR
Hand-in-Hand Initiative, FAO
Presentation by Anthony Bennett, Sr. Programme Officer (HiH FAO); Karl Morteo, Information Technology Officer (HiH FAO); & Carola Fabi, Sr. Statistician (FAO)
Committee on Sustainability Assessment (COSA)
Presentation by Daniele Giovannucci, Co-Founder & President, COSA
Photo: ©IFAD/Bernard Kalu