GLOBAL | 3 FEBRUARY 2022, 15:00–16:30 | ONLINE – CEST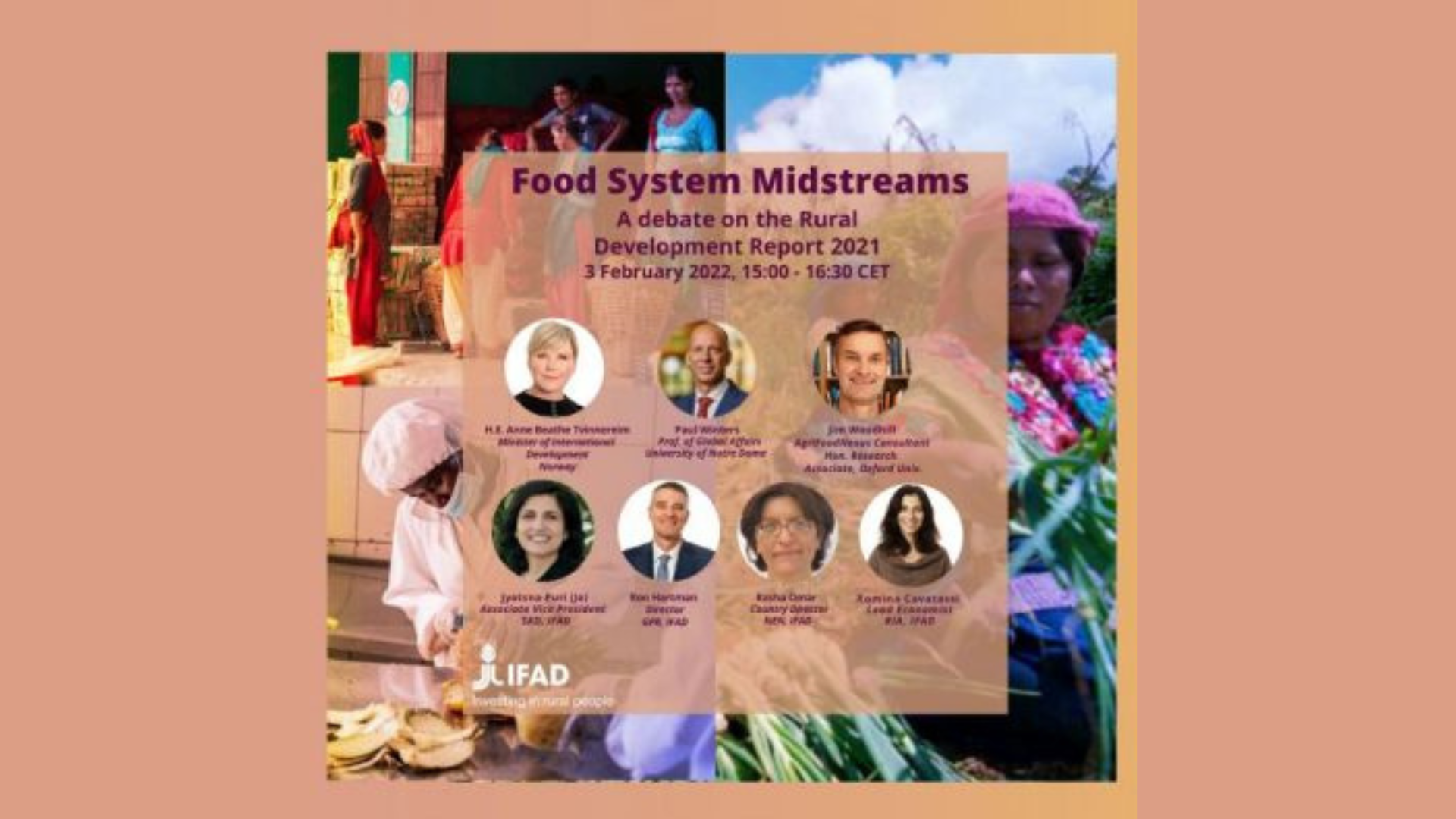 A debate on the Rural Development Report 2021
The first in a series of debates on IFAD's Rural Development Report to discuss the untapped potential of the food system midstreams – the activities after the farm gate, such as trading, storing, processing, and distributing to consumers. Innovation, finance, investments and entrepreneurship at this stage are key to expanding opportunities for small-scale producers.
With opening remarks from Norway's Minister of International Development, Anne Beathe Tvinnereim, tune in to discover the report's key recommendations, the obstacles to achieving transformation, and the opportunities for creating equitable, sustainable, healthy, and environmentally-friendly food systems. The audience will also have the opportunity to ask the panellists questions.
The event will be hosted and moderated by: Jyotsna Puri, Assistant Vice-President, Strategy and Knowledge Department, IFAD.
Opening remarks will be given by: Hon. Min. Anne Beathe Tvinnereim, Minister of International Development of Norway
Presentation from: Romina Cavatassi, Lead Economist, IFAD
Speakers: Ronald Hartman: Director, Global Engagement, Partnership and Resource Mobilization – IFAD, and GDPRD Board Member; Rasha Omar: Country Director – IFAD; Paul Winters: Keough-Hesburgh Professor of Global Affairs – University of Notre Dame; Jim Woodhill: AgriFoodNexus Consultant, Honorary Research Associate with Oxford University, Environmental Change Institute, and GDPRD Senior Consultant.