GLOBAL | 10. OCTOBER 2022 | 13.30-14.45 CET | FAO HQ – ROME, ITALY AND VIRTUAL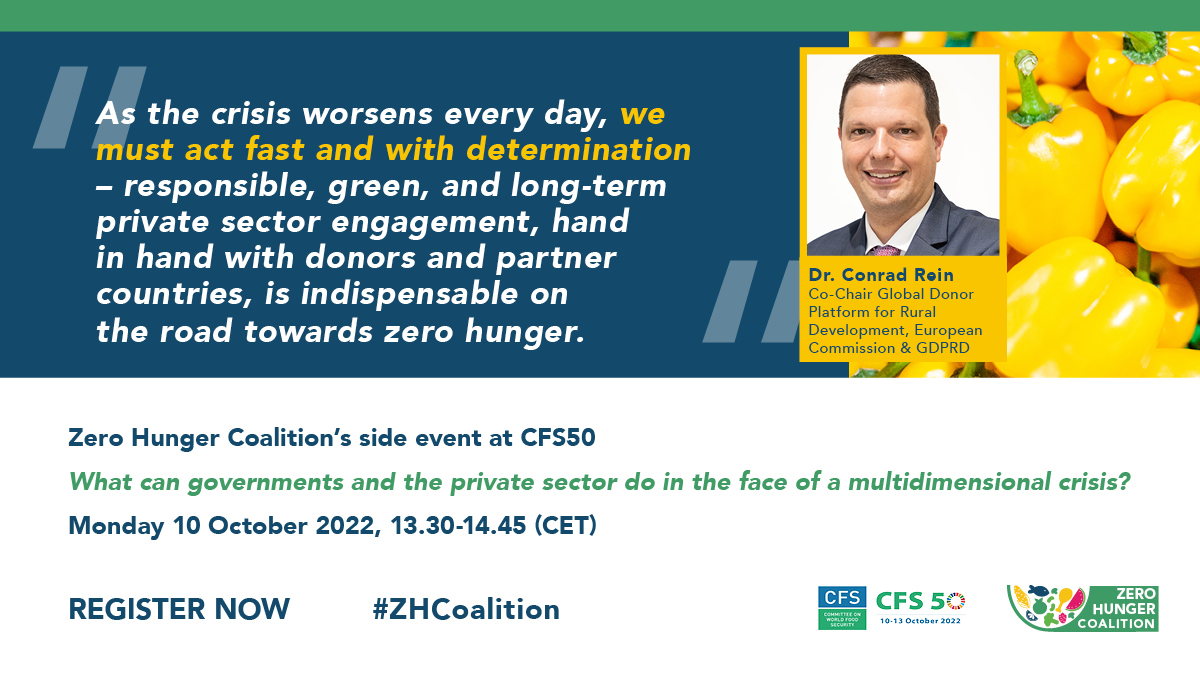 Side Event 4 | Achieving Zero Hunger: What can Governments and the private sector do in the face of a multidimensional crisis?
Conflicts, climate crisis, and the COVID-19 pandemic are seriously affecting global food security and threaten to wipe out decades of progress. Rising food, fertiliser and energy prices are pushing hunger levels up all around the world. The number of people affected by hunger globally rose to 768 million in 2021, an increase of about 46 million in 2021 and 150 million since 2019, before the outbreak of the COVID-19 pandemic. The current situation calls on companies and governments to align their investments and approaches with the latest evidence on hunger reduction. Recent research suggests that doubling investments in ten high impact areas could help end hunger, double the incomes of small-scale producers, and protect the climate. What do governments need to do to mobilise more resources and spend them better? How can the private sector step up to drive core business investment in addressing the current challenges? What needs to be done so that future generations can live without hunger, sustain healthier societies and a healthier planet and reach the 2030 sustainable development goals?
Objectives:
This event will highlight the role played by the Zero Hunger Coalition and Zero Hunger Private Sector Pledge in ending hunger. The private sector will announce new pledges.